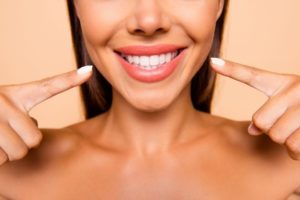 Did you know that according to the American Academy of Cosmetic Dentistry, the demand for cosmetic dentistry has actually doubled within the last five years? These days, more patients than ever before are opting to enhance their smiles—and there are several different ways to go about this! Here's more about four of the most common cosmetic dental flaws that people suffer from, along with some possible treatments for addressing them.
Staining & Discoloration
There are various reasons for your teeth becoming stained—especially if you're an avid coffee-drinker or enjoy other foods and drinks that contain staining agents. Sometimes this discoloration is also the result of more serious oral health issues or underlying genetic conditions. However, professional teeth whitening is able to address virtually all types of tooth discoloration. Your dentist can perform in-office whitening or send you home with a kit containing professional-grade gels and trays. Both methods are safe, relatively quick, and can provide results that last anywhere from six months to three years with good oral hygiene.
Chipped or Cracked Teeth
Chipped or fractured teeth might seem alarming, and you might feel like your situation necessitates something serious—but these issues are quite common and easy to address! Porcelain veneers, which are thin sheets of durable and natural-looking dental porcelain, can be bonded to the outer surfaces of your affected teeth, immediately improving their appearance. Cosmetic dental bonding can also be used to mask minor, targeted flaws in teeth using a composite, tooth-colored resin
Misshapen Teeth
Not everyone has perfectly shaped teeth—in some cases, our pearly whites simply don't look quite right for reasons beyond our control, whether it's due to genetics, physical trauma, or some type of oral health issue. This doesn't just dull your smile, though; it's also very problematic for your bite pattern as well as your facial structure! Misshapen teeth can also result in TMJ disorders that affect the mobility and functionality of your jaw. Fortunately, there are a number of means of addressing misshapen teeth including both veneers and cosmetic bonding.
Crooked Teeth
Another widespread problem that many suffer from is crooked teeth. This doesn't just result in an awkward smile, either; it can also negatively affect your bite pattern and overall nutrition, in addition to inhibiting your ability to properly clean your teeth! Several patients turn towards orthodontics to address crooked teeth, and clear aligner options like Invisalign are becoming more popular for effectively targeting and fixing crooked teeth as well as minor bite issues.
Your smile is one of the first things that people notice about you—so knowing that it looks its best will go a long way! By receiving cosmetic dentistry, you can target the aesthetic flaws in your smile and finally achieve a set of pearly whites you'll be proud to show off.
About the Practice
The team at Zhang Dental Group of Tustin is proud to serve the dental needs of the area under the leadership of Dr. Michael Zhang. Dr. Zhang received his dental doctorate from the Boston University Henry M. Goldman School of Dentistry and has taken countless hours of continuing education in a wide variety of fields. His practice is pleased to offer many available services including several cosmetic options. If you're curious about enhancing your smile with cosmetic dentistry, don't hesitate to contact the practice online or over the phone: (714) 836-5600.