Veneers – Tustin, CA
Make Your Dream Smile a Reality
Widely known as the secret to Hollywood smiles, veneers are one of the most sought-after cosmetic dentistry treatments. With the ability to address multiple dental flaws, last for 10+ years, and make your dream smile a reality in as little as two appointments, it's not hard to see why! Plus, our talented Tustin cosmetic dentist, Dr. Michael Zhang, uses his extensive education and training to ensure the end result is something you're thrilled to show off. To learn all about the process and benefits of veneers, keep reading!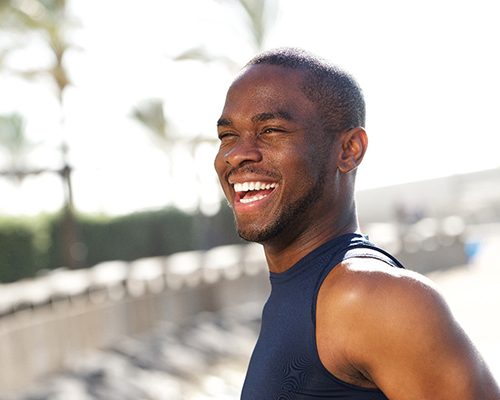 Why Choose Zhang Dental Group for Veneers?
Highly Trained and Experienced Dentist
80+ 5-Star Reviews
Integrity-Based, Patient-Focused Care
What Are Dental Veneers?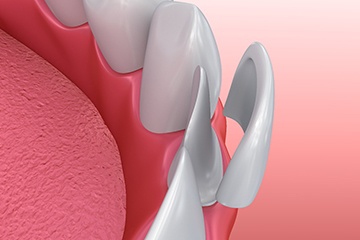 Veneers have become a household name over the last few decades, but what exactly are they? In short, they are thin shells of high-quality dental materials, like porcelain. When placed over the front-facing surface of your teeth, they can seamlessly conceal a wide range of dental imperfections. Most often, they are used to correct misshapen, stained, chipped, and otherwise imperfect teeth.
The Process of Getting Veneers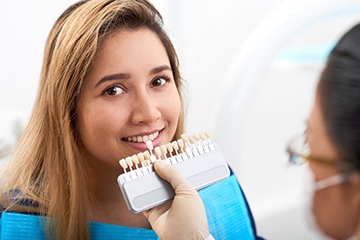 The veneers process starts with your consultation. During this visit, Dr. Zhang will examine your teeth, learn about your concerns, and ask questions about your smile goals. After confirming you're a candidate, it will be time for the next step: preparing your teeth. By carefully removing a small portion of your enamel, he can ensure that your final veneers aren't bulky in any way. Once this process is complete and the impressions are taken, you'll get a temporary set of veneers. When the lab artisans are done creating your final ones, you'll return to our office to have them placed. Then, the process will be completed!
The Benefits of Veneers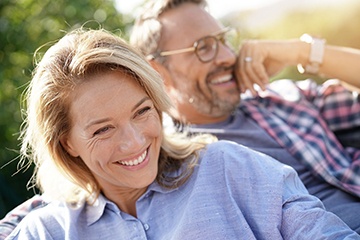 There's a reason veneers in Tustin are one of the most sought-after smile-enhancing solutions. In addition to delivering beautiful results, they:
Can last for 10+ years with proper care
Are easy to maintain
Are completely personalized to each patient's unique needs
Can address one flawed tooth or several imperfect teeth
Can be placed in as little as two appointments
Are stain-resistant and cavity-resilient
If you're unhappy with your teeth, then what are you waiting for? Get in touch with our talented team at Zhang Dental Group and take a big step closer to the gorgeous smile you've been dreaming of.
Understanding the Cost of Veneers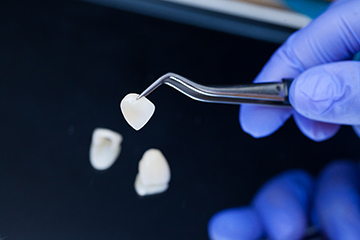 There are several factors that influence the cost of veneers, including how many are necessary to make all of the corrections that you want. Before you have veneers placed, one of our team members will explain the amount you can expect to pay. While veneers normally aren't covered by dental insurance, there are other ways to make them more affordable, and we'll make sure that you're aware of these options before you begin the process.
The Cost of Veneers VS Other Cosmetic Treatments
Obviously, veneers are far from your only choice when it comes to cosmetic dentistry. You should always take the time to weigh the available treatments and compare prices so that you can make a decision that's just as good for your bank account as it is for your smile. The cosmetic procedures we offer include:
Invisalign: Thanks to Invisalign, you can say goodbye to crooked teeth and overbite without having to wear traditional braces. While Invisalign is reliable, it tends to carry a higher price tag than other cosmetic procedures, and it can only be used to improve the position of your teeth.
Teeth Whitening: With professional teeth whitening, it won't take too long before you can enjoy a brighter smile. Teeth whitening is less costly than Invisalign, but it is also a relatively limited procedure; it can correct discoloration, but it does not affect tooth position or shape.
Dental Bonding: Dental bonding is one of the quickest and cheapest cosmetic options available, and we often recommend it for fixing minor flaws. However, the low price and speed of the procedure are balanced by the fact that it doesn't last as long as other treatments.
Veneers: Veneers allow you to transform multiple aspects of your smile at once. They normally cost more than teeth whitening or dental bonding. That said, you can usually expect them to last a decade or more provided that you give them the right kind of care.
We can give you a more specific estimate for cosmetic dentistry during your initial consultation. We'll never ask you to commit to anything until you know exactly what you'll have to pay.
How to Make Veneers Affordable
As previously mentioned, you typically shouldn't expect dental insurance to help pay for veneers. Most of the time, veneers are an elective treatment, and as such, they don't qualify for coverage under the majority of plans. However, there are cases where placing veneers might be necessary to save or strengthen damaged teeth; in these situations, insurance may help pay for the procedure. It's always worth calling your insurance carrier to clarify what benefits you have.
Even without insurance, our team will do whatever they can to help you manage the cost of veneers. We encourage you to ask about our Dental HQ Savings Plan. For a monthly or annual fee, you can enjoy a significant discount on a number of our services, all without the usual pitfalls that are associated with insurance such as waiting periods and annual maximums.
We're happy to accept various forms of payment for veneers including cash, checks, and credit cards such as Visa, MasterCard, and Discover.