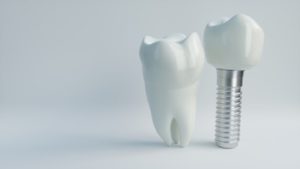 Dental implants are the premier option for replacing missing teeth. These awesome little implants can perfectly replicate the look, feel, and functionality of your natural teeth! Better yet, they can last for a very long time with proper oral care. But unfortunately, there are some things that can cause dental implants to fail prematurely. If you've just received dental implants, here are five bad habits that you should avoid entirely in order to protect and preserve your new pearly whites.
#1: Biting Your Fingernails
Some people bite their fingernails due to either boredom, anxiety, or stress, but this is a bad habit that can lead to chipped teeth and dental implants. Not to mention, your fingernails are vehicles for bacteria to enter your mouth, which can quickly lead to nasty infections and other oral health concerns. This puts your implants at risk too—if you suffer from a severe and untreated oral infection, your implants can loosen and even fall out. Instead of biting your fingernails, opt for sugar-free chewing gum instead!
#2: Using Your Teeth as Tools
Your teeth are the best available tools at your disposal for biting and chewing food, but they shouldn't be used for anything else! Using your teeth as tools to unscrew bottlecaps, open packaging, or hold objects when your hands are full is one of the easiest ways to damage your implants.
#3: Smoking or Using Tobacco Products
Smoking is notorious for causing all sorts of health issues, and many of them pertain to your mouth! Both smoking and using tobacco products greatly increases your risk of developing gum disease and also interferes with the healing capabilities of your mouth. If you care about keeping your dental implants, avoid smoking entirely.
#4: Eating Too Many Sugary Snacks
Nothing expedites tooth decay quite like sugar does! Overindulging in sugary and acidic snacks and sweets can easily lead to tooth decay, cavities, gum disease, and all sorts of other oral health problems that can affect your implants. Practicing good oral hygiene can help to counteract this, but still be mindful of what you're eating.
#5: Skipping Dental Visits
Visiting your dentist twice a year for checkups and cleanings is important for many reasons. Aside from being able to provide a detailed level of care, your dentist can also inspect your implants and ensure that they're working as intended without any underlying issues. That said, skipping out on these visits increases the likelihood of a problem developing and getting out of hand!
Your dental implants will change your life; but you must take care of them in order for them to do so! Knowing some of the common reasons for dental implant failure can help you to get the most out of your implants for many years to come.
About the Practice
Dr. Michael Zhang has proudly served patients and families in the Tustin, CA area for several years. Dr. Zhang received his dental doctorate from the Boston University Henry M. Goldman School of Dentistry and has taken countless hours of continuing education in a wide range of fields. His practice is pleased to offer many available services including dental implants. If you have any questions about the article or would like to schedule a visit, feel free to contact Dr. Zhang through his practice's website or over the phone: (714) 836-5600.